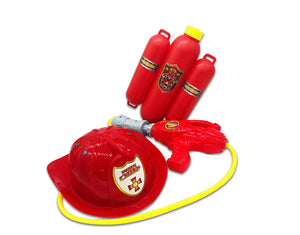 Product Details
THE PERFECT SUMMER TOY – Make playtime more enjoyable for you and your kids! Grab our water guns next time you're planning to splash around and participate in an all-out water madness!

LESS RELOADING TIME – Never run out of ammo. Don't get trapped in sticky situations without having the chance to fire back. Unlike small water pistols, ours have higher loading capacity.

LONG-DISTANCE SHOOTING – A sharpshooter's skills won't matter if your water guns can't squirt far enough to reach your target. Our water shooters can release a jet of water of up to 30 feet.

TAKE IT ANYWHERE – Bring your new backpack water guns wherever duty calls! Our toys are great for bath times, pool and beach parties, recreational water sports and more!

FIREMAN HELMET INCLUDED - This fireman helmet is exactly what your kid needs to feel like they are putting out a fire!